Start Your Own Scrapbooking Business

The Ultimate Mini Album Website

Are you thinking of starting your own scrapbooking business? Or perhaps you already have one you're trying to grow?


We've all heard the old saying, "Do what you love and the money will follow." Well, there's a lot of truth to that. Imagine the joy of doing what you love to do (scrapbooking) and enjoying the benefits of running your own business!

There are several ways you can go about creating a business from your passion for scrapbooking.
One option is to create scrapbooks for others.  You can create mini scrapbooks or page layouts and sell them on eBay or Etsy.  Both are great avenues to sale your pre-made scrapbook pages or mini scrapbook albums on. 
You can also do crafts fairs where you would sell your creations.  You typically rent space for a day and people will come and see what you have to offer and buy lots of your products.
Another option for starting a scrapbooking business is to buy scrapbooking supplies wholesale and sell them at close to full retail price either on eBay or Etsy or some other avenue where you can sell scrapbooking supplies.  *Please see our wholesale scrapbooking suppliers page for further information on where to find scrapbook products for wholesale prices. 
And still another option is Build your own website like I did! With a website you can make income through a number of ways.  You can earn affiliate income from Google ads or other affiliate programs.  ShareASale is an amazing affiliate program.  You can sign up with various merchants through them such as Scrapbook.com, Craftsy, Smilebox, My Memories Suite, and many other scrapbooking themed merchants.  You earn a commission whenever anybody purchases through one of the merchants through your link.  It's a nice and easy way to make passive income.
You can also sell your products that you create directly on your website or use it to direct buyers to your eBay or Etsy shop.  You can also use it to sell wholesale products.
Now you may be thinking you can't build a website because you don't know the first thing about it.  Well, you may not believe this, but I have absolutely no website building experience. I know nothing about building a website! But I found SBI - Site Build It. What an amazing, amazing tool. It allowed me to turn my passion for scrapbooking into a fun and creative business! I want to be very honest with you ~ SBI is not a get rich quick scheme. Their mascott is the tortoise. Slow and steady. But the tools they give you are absolutely remarkable!! They have it all figured out. They have block building website building tools that even I have been able to figure out ~ as seen on this website. They have tools that allow me to get my keywords ranked at the search engines. They have active forums on every aspect of the SBI process where you can get help at every step of building your new business.

There are tools to help you find the perfect niche for your website, whether it be scrapbooking or something else entirely. Seriously, the tools they have are absolutely amazing! Here is a link that will take you to their site where you can learn more about it. Also, please feel free to use the contact form to contact me about anything you may want to know about Site Build It.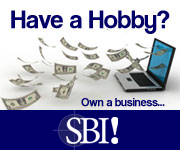 If you've decided to start a craft business you will want to read as much as you can possibly find on the subject.  At least that is how I usually approach something I want to succeed at.  Here are some available resources to help you succeed in starting your own profitable scrapbooking business.
Here is a company that has an eBook that is available as an instant download, as well as some bonus material and a free e-course is Brett McFall and his Scrapbooking Profits.
Click Here!
 Return From Scrapbooking Business to Home